Post by Lmpkio on Jan 18, 2014 5:57:21 GMT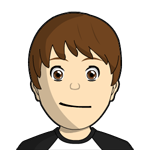 Lyter was awoken by the shuffling of feet along a rocky, stone floor. Her eyes were adjusting to the dim light after waking up, so she could not see properly. She slowly, very slowly, raised her head and started to wake up properly. Analysing her surroundings... She was sitting in a little shelf, which had been eroded into a stone wall. It was pretty dark, but a glowing light was coming from somewhere. Where was it coming from? Her eyes widened in shock as she realised she had decided to sleep right next to a ravine. She let out a slight "Eeep!" She then heard some more shuffling coming from her left. She turned her head, looking in that direction. This is when she knew a big mistake had been made. This was when she noticed the huge, dark shadow moving towards her...

-----46 Minutes Earlier-----

Lyter was being blasted by the grains of sand. The sandstorm was pelting her feathers and skin. Huge irritation was occuring around her nose and eyes. She looked around, her eyelids nealy closed to block out as much sand as possible. She saw a cave nearby. Without hesitation, she sprinted towards it, trying to reach its entrance before she was blown off her feet by the strong winds. She made it faster than she thought. Her agility was really helpful sometimes. Now that she was in the cave, she brushed the majority of the sand off of her face, and started to clean her arms and body too. Once this was done, she headed down deeper into the cave. She walked passed a huge circular room, and there were lots of tunnels branching off into many different places. She walked down one, to get as far away from the storm as possible. She found a light source down one of the tunnels, and without even noticing where she was she stepped onto a shelf in the wall and began to drift off to sleep.

-----Back to the Present-----

Lyter was paralyzed in a strong fear. The huge creature was stepping towards her, each footstep echoing off the walls of the cave. This made every stride seem like a boom of thunder. Lyter had made a bad mistake in coming down here. A very bad one. There was no escape now. The creature stepped into the light. It was a Tarbosaurus. The species of dinosaur that had killed her parents. Her body filled with rage, but that was quickly replaced by fear, as she realised it was very likely she was going to join her parents now. The Tarbosaurus kept walking towards her, the smell of the rotten meat on his teeth getting more noticeable. The Tarbosaurus was very close now...
(Can the Tarbosaurus be Khan?)