Post by Theropod on Sept 27, 2016 4:25:55 GMT
I made this post elsewhere before and decided to take this further. It helps envision flow and easing at the same time.
As already explained in another thread, flow consists of having all segments move properly, as opposed to having only a few segments moving and others being stiff. In the following animation, all of the segments involved in the movement are moving as if independently, rather than rotating around another segment's axis.
Flow scheme used: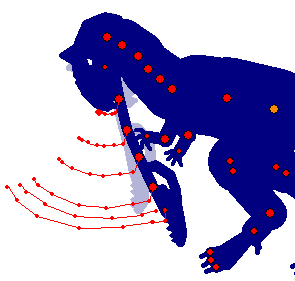 In the image, you can see lines with dots on them attached to the red dots of the stick I animated. The red line represents the path followed by each red dot in the stick over each frame, while the red dots represent where the stick's red dots were in each frame.
This also shows the easing used in the animation, as you can see the lines in the middle of the movement are longer than the ones to the right and to the left, which creates an effect of acceleration. Each segment is moving as if on its own as well, which avoids a stiff-looking movement. You can see I even had an extra segment starting from the second frame, I had to add that as it would make the animation look stiff without it (but also mainly because of the nature of what I was animating).
This can be used to see clear differences in animating style. The following is a scheme taken from an animation by George, in a Spinosaurus attack animation: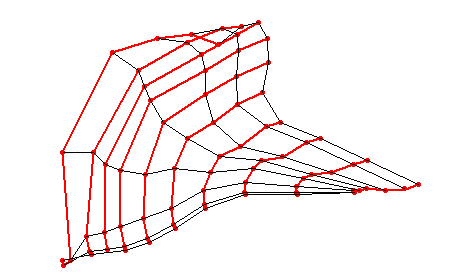 And the following is by atrox, in an Acrocanthosaurus roar animation:

It is clear that both styles are very different, with atrox having a more easing-based style and having a more advanced easing style. George used a more explosive style, with rapid desaceleration. Atrox used a more advanced, intricate easing style. George had a more vicious flow, with joints moving greater distances during every frame, while atrox kept joints moving at a more calm pace and showcasing more flexibility. Atrox's animation resembles more a stick smoothly bending itself, while George's animation looks more aggressive.
There is no better flow in this case, as they were aiming for different aspects. While atrox aimed for a calmer scene, George aimed for a vicious scene and both were executed skillfully. Atrox used a more intricate flow, with lines following a more "logical" trail, while George's looked more mutable over a similar number of frames. Both very different styles.
This was rather basic and I hope it is understandable and helpful. I will analyze pivs sent to me at hatzegopteryx97@gmail.com. Please let me know you sent the file. I will analyze shorter animations, specific movements going around 10-15 frames long.